Launched
Led by umbrella-wielding tour guides (pointing devices rather than rainsavers) last night saw the launch of the Flatpack Installation Trail.  Dedicated trailmakers began at Urban Outfitters for Chris + Keir's 'tribute to the 19th century Canadian Vaudevillian Rob Ring'.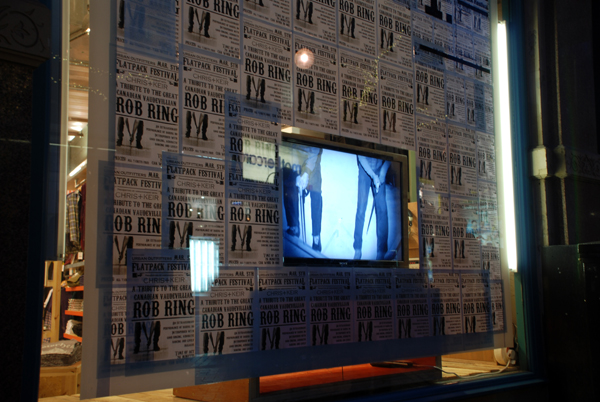 David Osbaldestin and John Wigley of BIAD were both on brolly duty and led the ramble (and discussion) across all five installation hotspots (map).  A gothic love story, cross-looping noir narratives and Hitchcock sms intertitling took us through to Digbeth's favourite bright yellow building, COW Vintage where Phil Barber's untitled, multi-monitored, screensaver death piece concluded the tour.
Pete Ashton was on hand with his Flip and comprehensive footage is on his Vimeo page. I relived the tour this afternoon in the cold light of day, hoping to take some more photos.  (Note: monitors in windows in daylight makes for difficult subject matter.) All will be uploaded to the Flickr shortly. In the meantime you'd be advised to do the rounds and see with your own eyes.  The installation trail runs until March 15.